A Visit by the Executive Board Of CAPA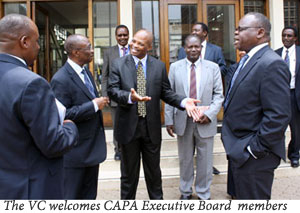 The Commonwealth Association of Polytechnics in Africa Executive Board members visited CAPA's Secretariat situated at the Technical University of Kenya on Wednesday, 12th February 2014, and later on paid a courtesy call on the Vice-Chancellor.
The Technical University of Kenya has hosted the CAPA secretariat since it was established, following a resolution of the 7th Commonwealth Conference of Education Ministers held in Accra, Ghana in March 1977. During the courtesy call, the Vice-Chancellor assured CAPA's Executive Board members, that TU-K is willing and will continue to support CAPA's activities and in this regard, intends to provide more space to enhance the Secretariat's activities.
On his Part, the Chairman of CAPA Executive Board Mr. Tsietsi Jacob Lebakae, who is also the Rector of Lerotholi Polytechnic, Maseru, Lesotho lauded the central role that TU-K has played in the development of Technical and Vocational Education and Training (TVET) education in Kenya and Africa. He particularly congratulated the Vice-Chancellor, Prof. Dr.-Ing. Francis W.O. Aduol for his passion and commitment to the development of TVET in the country and Africa as a whole. He noted that CAPA was pleased with the Vice-Chancellor's presentations during the CAPA 2013 International Conference held in November 2013, in Arusha.
CAPA Executive Board delegation was led by Secretary General Dr. Olubunmi Owoso. Other members of the Executive Board in the delegation were:-
Mr. Pascal Chewe - Vice Chairman, Southern/Central Region and Principal, Technical & Vocational Teachers' College, Luanshya, Zambia.
Mr. Edwin M. Tarno - Country Representative (Kenya) and Chairman, Kenya Association of Technical Training Institutions and Chief Principal, Rift Valley Technical Training Institute, Eldoret.
Ms. Hlomohane Majara - Registrar, Lerotholi Polytechnic, Lesotho