TU-K student to represent country in Commonwealth Chess Championships in Delhi; to lead team to Olympiad in Georgia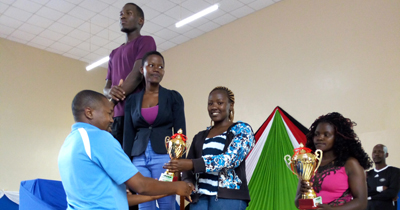 Chess Kenya has invited a Technical University of Kenya's student to represent Kenya in the Commonwealth Chess Championships in Delhi, India scheduled to take place between June 24 and July 4 this year.
Ms. Joyce Nyaruai, the reigning Women Kenya National Chess Champion 2018 and her Men champion counterpart are the only two players selected by Chess Kenya to represent the country.
"Chess Kenya is preparing to send the National champions for Ladies (Joyce Nyaruai) and men (Ben Magana) to attend the event. Any other interested persons are invited to apply on self-sponsored basis," a Chess Kenya statement read.
As per the tournaments entry regulations, each Commonwealth county is eligible to field official entrants; one man, one woman, one senior (above 60), one Junior girl (under 20), one junior open (under 20) and one open and girl entries, under 8, 10, 12, 14, 16 and 18. The host will provide free accommodation for the official entrants. Other entrants will have to pay entry fee and secure boarding facilities.
The tournament winners will be awarded cash prizes and medals; Gold, Silver and Bronze and will be referred to as Commonwealth Medalists.
Chess Kenya will cater for players' air tickets and tournament registration fee while the club (TU-K Chess Club) caters for travel insurance, VISA fee and pocket money. Delhi Chess Association who is the host will fully cater for meals and accommodation.
Nyaruai tasked to lead chess team to Olympiad Games
In the invitation letter signed by the Chess Kenya Federation President Mr. Benard Wanjala, Nyaruai has also been tasked the lead role preparing the national team to participate in the upcoming World 43rd Olympiad Games scheduled to take place in Batumi, Georgia in September this year.
"The opportunity to represent Kenya in the Commonwealth Chess Championships will also offer an excellent opportunity for you to prepare and lead the national team to participate in upcoming World Olympiad scheduled for September this year," read the letter in part.
The TU-K Chess Club currently tops the Kenya National Chess Championship rankings that brings together several clubs from corporates, banks, and several other learning institutions. These include the Central Bank of Kenya, Stima Chess Club, Kisumu Chess Club, Black Knights Chess Club, Equity Bank, University of Nairobi, KCB Group Limited, Kenyatta University, Mombasa Chess Club, Bank of Africa, Strathmore University among others.   
Ms. Nyaruai, a fifth year student pursuing a Bachelor's degree in Electrical and Electronics Engineering has previously won several titles and represented the university and the country in several tournaments.
In 2016, Nyaruai was part of a team of five women and five men selected to represent Kenya in global 42nd Olympiad Games in Baku, Azerbaijan in Western Europe. She topped the Kenya's Women Chess team during the games scoring the highest points.
"Nyaruai was the overall winner in chess women category in the just concluded Kenya Universities Sports Association (KUSA) indoor games held in Kibabii University where 27 chess teams from across universities in Kenya participated," said Mr. Christopher Ojwange, TU-K's Sports Assistant Administrator, also in-charge of Board Games.
Sasha Mongeli, a third year Actuarial Science student at TU-K came second during the tournament placing the university top in chess women category. Men were beaten to position two by Kibabii University.
"The exciting results from the chess teams, both men and women, has placed the University in a good position thus enabling it to proceed to the East African University Games that will take place at University of Dodoma in Tanzania in December this year. Chess is of course among other disciplines the University actively participates in," said Mr. Ojwange.