TU-K leads the way in shift to computer-based chemical management system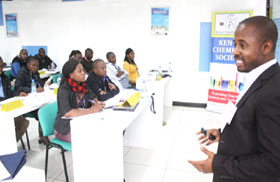 In line with Technical University of Kenya's quest to maintain the highest global standards in its operations, the institution recently trained 20 of its employees who handle chemicals on the use of Computer-based Chemical Inventory Management System (CIMS).
The move is set to shift the University from the traditional way chemical handling and operations that is paper-based to computer-based, an international standard that guarantees safety, and monitors security risks. This involves setting up measures that stringently minimises access to un-authorised persons and ensures quick management and references.
According to TU-K Chemical Science and Technology Head of Department Dr. Austin Ochieng, the training, which was held at the University's Samsung Lab, is the second in a continued process to ensure that the University is compliant.
"International standards of chemical handling now call for safety and security of chemicals either in learning and research institutions, industries or at any other point," noted Dr. Ochieng.
Some chemicals that may be accessed by un-authorised persons can be combined to make explosives like bombs, grenades and other home-assembled chemical weapons.

 

Dr. Ochieng indicated that computer-based chemical management ensures high security for sensitive chemicals as well as regulated access and control.
"The traditional paper-based chemical management gives limiting factors like minimal security and easy access as well as marginal warning on the hazardous state of individual chemicals, also, the computer-aided management can be done online and handlers can quickly tell the chemical component type and quantity. " added Ochieng.
The four day training programme was held in collaboration with Chemical Security Program (CSP) and TU-K and was sponsored by the US State Department. Also present were officials from the Kenya Chemical Society (KCS).
Some of the key areas of training were chemical inventory management system Installation, setup, access control and audit, barcodes and barcode readers and scanners, standard operation procedures, chemical reception, and best practice on storage and retrieval.