TU-K in Job Market Training Partnership with GIZ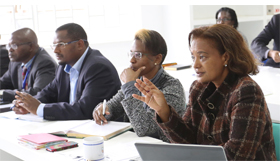 The Technical University of Kenya has partnered with the German International Corporation Company (GIZ) to train engineering graduates with the aim of delivering industrial skills linked to market demands.
Through GIZ's Skills for Oil and Gas Africa programme (SOGA), TU-K continuing engineering students and graduates will benefit from the partnership that will see them access industrial attachments and job placements in various sectors among them oil, gas and supply chain industries.
The agreement was made during a one-day workshop held at the university where several market players attended.
The intensive workshop organised by TU-K and GIZ Private Sector Co-operation Network brought together government and private company participants among them Tullow Oil, Toyota Kenya, Car and General, Centurion Systems, Davis and Shirtliff, Linkage Industry with Academics (LIWA) among others.
Skills for Oil and Gas Africa Regional Programmes Manager Aregash Asfaw said there is an immediate and significant demand for skilled workers in the oil and gas sector and its supply chain. She added that this opens employment opportunities for the local population and inclusion in supply chain offered by oil and gas investments.
"The recent oil and natural gas discoveries in Kenya and investment in related sectors offers unprecedented opportunities for economic development and sustainable growth in Kenya and the East Africa Region," said Asfaw,
She noted that the training fills the gap between emerging technologies in market demands and the training institutions. "Incoming industries have in the past failed to employ local professionals due to a mismatch between industry demand and supply of trained labour, out-dated training offered, lack of exposure to real life work situation and limited reference to international certification standards among others," added Asfaw.
Davis and Shirtliff representative Zippi Midikira said that the GIZ's training programme will come in handy and will cushion the shortfall in training fresh graduates and even the continuing engineering and technical oriented students.
Technical University Deputy Vice Chancellor Prof. Suki Mwendwa said partnerships between learning institutions and market players are key in building solid country's economy.
Other TU-K officials who attended the workshop were Executive Dean Prof. Alex Mumbo, UIP Director Prof. Wilson Ogolla, TVET Director Mr Akumu Owuor, and CEIP Director Dr. Eric Ogur, among others.