TU-K and ATPS Partner to Improve Use of Technology in Africa
TU-K and African Technology Policy Studies Network (ATPS) have signed a Memorandum of Understanding that will see the two institutions establish active linkages aimed at conducting joint policy research on issues revolving around science, technology, and innovations (STI).
The issues to be addressed under the partnership are based on the recurring threats to the African people, such as food security, technology transfer, sustainable environmental management, enterprise competitiveness, gender based issues, climate change and health.

Speaking during the signing ceremony held on February 12, the TU-K Vice Chancellor Prof Francis Aduol said: "There is inadequate capacity in policy related areas not only in Kenya, but Africa in general and the MoU is cognizant of this fact, thus the need to increase our capacity in analytical and research competencies in this area."
The agreement will see the two institutions develop joint research proposals for fundraising, conduct joint activities such as seminars, sharing resource persons and expertise, exchange learning visits, consultancies and advisory chairs.

The ATPS Executive Director, Dr. Nicholas Ozor, was enthusiastic that the agreement would elevate the status of science as an integrated tool for accelerating the implementation of Africa's national development programmes. "The sharing of curricula and training materials, the establishing of joint advisory chairs, the exchange of staff as well as promoting networking will enable the continent to effectively address issues that continually plague our development," he said.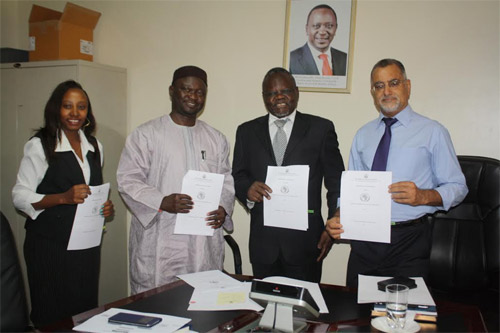 Vice-Chancellor Prof. Francis Aduol (Right) African Technology Policy Studies Network (ATPS) Executive Director, Dr. Nicholas Ozor (Left) and TU-K lecturer Centre for Science and Technology Studies (CSTS) Dr. Arun Datta during the signing of an MoU. The three display documents.
Prof Aduol also spoke of how over the past three decades underdevelopment has continued to persist and even to worsen on the African continent, with negative effects on the population and the environment.

"The application of science is one of the most effective weapons in the struggle towards the reduction and eventually the elimination of abject poverty in society, the overall economic and social development of the African nations can easily and beneficially be accelerated through the adaptation, assimilation, internalization, innovation and invention of new technologies," he added.

It is expected that the partnership, which will run for a period of four years, will promote a science culture in Kenya and other countries within the region with the sole purpose of improving contextual media for Science, Technology and Innovations development and application.

ATPS is a trans-disciplinary network of researchers, policy makers, private sector actors, and the civil society that promotes the generation, dissemination, us and mastery of (STI) for African development, environmental sustainability, and global inclusion.

With a regional secretariat in Nairobi, it operates through national chapters in 30 countries.