Tshwane University of Technology to Train T-UK Technologists and Technicians on Basic Injection Moulding Technologies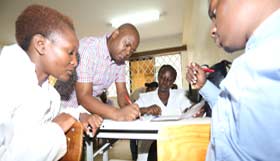 South African Tshwane University of Technology (TUT) has partnered with Technical University of Kenya (TU-K) to train TU-K Technicians, Technologists and Master of Technology students on a special technology used in manufacturing plastic materials and parts.
The two-week intensive training at TU-K is designed to build capacity on fundamentals of injection molding, a massive and complex technology process used in the manufacture of more than 40 per cent of plastic materials.
According to Jeffrey Makhubela, TUT's Institute for Advanced Tooling Operations Manager, majority of African plastic and parts manufacturing industries are still dependent on injection moulding technologies from India, China or from European.
"This is the key ingredient in driving kenyas's economy to be independent of overseas manufactures of injection mould tool," said Dr Eric Ogur, the TU-K Director of the Center for Engineering Innovation and Production.
He added that the move elevates economy to self-sufficiency in production chain. "If for instance a local production company needs to make or change shape of their plastic packaging, they are forced to make and order of an injection moulding tool from abroad, " said Ogur.
Mr Makhubela is conducting the training at TU-K alongside his counterpart Ireen Modipa.
Technology Innovation Agency from South Africa is sponsoring the training at TU-K to the tune of 11.5 million kenya shillings that runs for four weeks, with the initial two-week training currently ongoing and a follow-up training to be conducted early next year. Other trainings are also scheduled for a later in 2016.
TU-K has already acquired 41 state-of-the art CNC machines that demand highly skilled operators. The machines are used in manufacturing injection moulds among other tools.
The injection moulding process is extremely delicate, equally uses expensive machines that demand experienced man power.
According to Dr Ogur, TU-K has massive machinery that meets international standard but lack operation personnel leaving a gap in machine's optimum utilisation.
"The partnership and training with various local and international universities, research institutes and experienced skilled man power will put us in the world map," Dr Ogur added.