MPs Ask EBK to Speed Up Accreditation Of Courses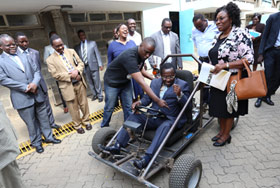 The National Assembly Education Committee Chair, Hon. Sabina Chege has appealed for a speedy resolution in accreditation of the Technical University of Kenya (TU-K) engineering courses by Engineers Board of Kenya (EBK).
Chege led a team of six MPs who visited the institution on Friday October 30, 2015. The MPs took issue with EBK for delaying the approval of the university courses saying the move was in bad faith and was also affecting the nation as a whole. "Students are stranded at home. This has caused unnecessary anxiety among students and parents. A solution must be found," said Chege.
"I am impressed with what I have seen and this has erased any doubts. This university has some of the best equipment for training of engineers in the region. They have hired competent staff and leading minds in the engineering profession. I therefore ask EBK to go ahead and accredit them," said Chege.
The engineering workshop members of Parliamentary Committee on Education toured TU-K
Currently, thousands of engineering students are out of campuses following disturbances that led to suspension of some engineering courses in different public universities. In July, EBK published notices in local media, dismissing some of the courses not registered by the board.  

Legislators were informed that the university had complied with the requirements of EBK and assured that few pending issues will be solved amicably. TU-K boasts of state-of-the-art machines and equipment in the training of electrical and mechanical engineering.  
Speaking at the same function,  the Chairman of the sub-committee on Technical Vocation and Education Training (TVET) Hon. Ceciliah Ng'etich informed the University Management that the Engineering Technologists, Technicians and Craft Persons Bill was at committee stage, awaiting third reading later this month.
The bill which was first introduced to Parliament in 2012, seeks to provide for a legal framework for the Regulation, Practice and Standards of Engineering Technology Personnel (Technologists, Technicians, Craft Persons and Engineering Artisans) in Kenya. These cadres of engineering technology professionals are not presently registered and regulated as per the international standards. She noted that the bill will support TVET graduates in a number of Technical Training institutions in the country, thereby increasing their employability both nationally, regionally and internationally.
Mps present included; Hon, Yusuf Chanzu, Member of Parliament, Vihiga Constituency,  Hon. Richard Makenga, Kaiti,  Hon. Michael Kisoi Munyao, Mbooni, Hon. Geoffrey Makokha Odanga, Matayos and Hon. Muriuki Njagagua, Mbeere North. TU-K management was led by Vice-Chancelor Prof Francis Aduol, Deputy Vice-Chancellor - Academics Research and Students (ARS) Prof Paul Shiundu, Deputy Vice-Chancellor - Administration Planning and Infrastructure (API) Prof Joseph Kiplang'at among other members of staff.