Help society to make sense of information, VC urges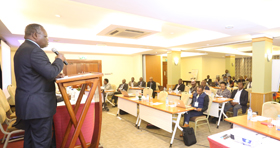 Information and knowledge management specialists have been challenged to help the society to make meaning out of the existing vast volumes of information and to pay special attention to the youth.
Speakers during the 2nd International Conference on Information and Knowledge Management recently held at Panafric Hotel, Nairobi challenged information professionals to cascade wealth of knowledge for social and economical growth.
"In the 21st Century, you cannot do anything without basing it on relevant and timely information. Access to such information is a critical key to societal development", TU-K Vice Chancellor, Prof. Francis Aduol cautioned.
This year's conference themed Transforming information and communication through digital media and technologies was organised by the Technical University of Kenya (TU-K), Moi University and the University of Nairobi (UoN).
This being a biennual conference attracted delegates from South Africa, Zambia, Zimbabwe, Tanzania, Uganda, Nigeria, United States of America, and Kenya. It was first held in 2016.
Professor Aduol noted that today's world relies heavily on information base that continually and called on on information managers to help match this demand.
The VC further challenged higher learning institutions across the content to present information-related courses in a way that attracts young learners who graduate from secondary schools.
"While choosing courses they prefer to pursue at the university, the first thing that hits their minds is the prestige attached to a career and profession," Prof Aduol noted.
"I sit in the board of the Kenya Universities and Colleges Central Placement Service (KUCCPS), and I observed that information science for a while now has not been attracting top students who are joining universities. Think of how best you can present this profession to the young people for them to understand and gain interest in it," Said Prof. Aduol.
The outgoing Deputy Vice Chancellor for Administration, Planning and Infrastructure Prof. Joseph Kiplang'at underscored the importance of the conference noting that it provides a platform for dialogue and sharing of experiences, insights and ideas about how best to use technology to improve personal and professional lives.
"It is estimated that every second, 973,000 users login on Facebook, and over 174,000 users scroll on Instagram. Additionally, 38 million messages are passed between various individuals on the WhatsApp messaging platform. Importantly, 3.7 million searches get initiated in Google while 4.3 million videos get viewed on YouTube. All these are just a glimpse of the entire picture," noted Prof. Kiplang'at.
Professor Dennis Ochola from the University of Zululand in South Africa who was the conference's keynote speaker said the significant purpose of knowledge management is to foster innovation through encouragement of free flow of ideas through knowledge sharing.
He noted that information managers enable knowledge creation by facilitating the filtration of knowledge through socialisation, learning and diffusion.