DVC advises students to shun vices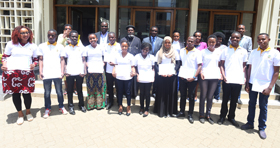 The Technical University of Kenya Deputy Vice Chancellor (DVC) has asked students to desist from bad behaviors, and instead, nurture good character. These virtues, he said, will help them hone desired personalities while at the university and later in their careers.
Professor Paul Shiundu, Academics Research and Students DVC said it was saddening to note unfortunate cases resulting from drug abuse, immoral sexual behaviour, gambling, criminal activities among university students. Such unbecoming behaviors land them in problems including; contracting of sexual transmitted diseases, unplanned pregnancies, mental conditions and sometimes resulting into deaths.
While referring recent brutal killing of Bondo University student, Sharon Otieno, linked to extramarital affairs, Prof. Shiundu asked both young people and the elderly to take up the challenge in rooting out rising rogue behaviour in universities.
"It is unfortunate that young and old people find themselves in these challenges, questions are raised on where we as a society is headed to. One of such cases is the brutal killing of a university student, Sharon. It is unfortunate that she had to die in that way" said Prof. Shiundu, adding that, elderly ought to set good example.
The DVC was speaking recently at TU-K during the culmination of a three-day training of peer-to-peer volunteers that saw 23 students benefit from the programme spearheaded by the Inter-Religious Council of Kenya (IRCK). The students were drawn from various religious associations. They were tipped on interpersonal and group information sharing skills. The training was organised by the University's Directorate of Students Support Services (SSS) in collaboration with IRCK and saw the volunteers awarded with certificates.
Prof. Shiundu told the peer educators to make use of the skills they acquired voluntarily adding that they were critical in their personal and career lives. He noted potential employers value such personal initiatives and gallant engagements.
"We are happy that you elected to participate in this mission; you have taken up a noble responsibility and we look forward to witness you practice what you have learnt," said Prof. Shiundu.
Prof. Omondi Oketch, Director Student Support Services said peer-to-peer counselling is an effective way of reaching out to bigger student population whenever sensitive matters are involved.
"This kind of effort is commendable and affords the university opportunity to reaching out to the students population of over 15, 000 and this also extends to the members of staff," said Prof. Shiundu.
Some of the skills the peer educators were trained on include: abstinence, HIV and AIDS, HIV situation analysis in Kenya, HIV transmission and protection, awareness and moral aspects. They were equally trained of roles and qualities of peer-to-peer educators and practical strategies during engagements among others.
Facilitators and participating staff from both institutions who helped during the training included; Sabina Ng'anga, Margaret Mburu, Dr. Francis Kuria, Mercy Hongos, Mark Too, Ezekiel Mburu, Gloria Jumba among others.
The Inter-religious Council of Kenya Chairman, Fr. Joseph Mutie, who graced the occasion, said the Council was pleased to have collaborated with TU-K in training peer educators. Fr. Mutie said this initiative would help instil moral and religious values in efforts to change attitudes in society.
"It is worrying that over 50 percent of new HIV infections are among the youths. We therefore urge you to work hard in developing attitude change towards this pandemic among fellow students and in the society," Fr. Mutie challenged the peer educators. He said ICRK will identify other possible collaborations with the university towards this effort and other engagements.